I'm a bit late in posting these, as I've been busy with the preparations to take my cat to London. The vet couldn't take the blood from the veins in her legs, it had to be taken from the jugular vein. I was scared to death at the thought of a needle in her jugular, but everything went fine. Phew.
Anyway, here are the new sketches!

Title: Don't touch my world
Characters: Harry/Draco
Rating: G
Media: Pencil, PS
Notes: This is a commission for
jegviraag.






Title: Kilt
Characters: Draco
Rating: PG
Media: Pencil
Warnings: Nudity. Kilt :P
Notes: This is a commission for
moonlitdark.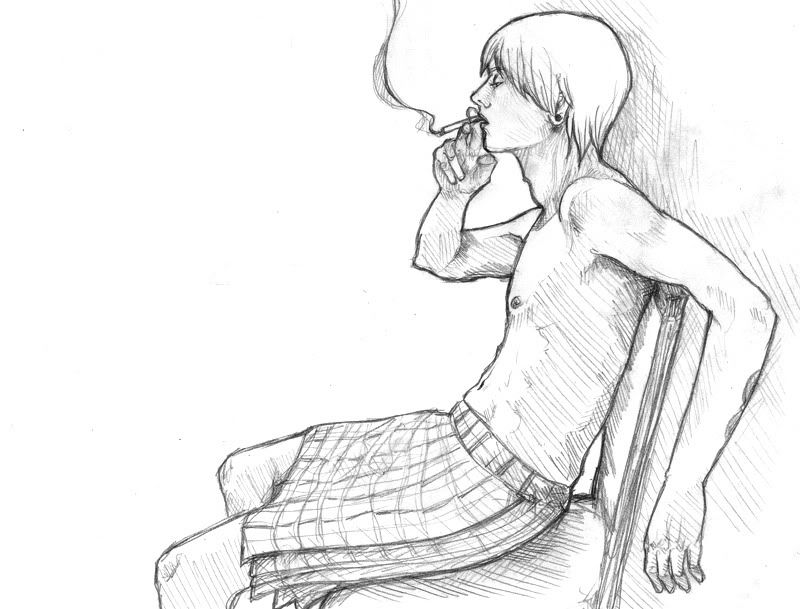 And here is my prompt for
hd_fan_fair. Inspired by Voices of a Distant Star.



Location(s): the space
Era: EWE or AU
Scenario: Some time after the end of the war, Draco is among the ones sent in the space by a secret council (you decide why) and he can't go back on Earth. During his long, lonely journey, light years away, he exchanges messages with Harry, but the more far away he goes the more time it takes for the messages to arrive to Harry: weeks, months, then years. Because of the space-time distance, while o
y a few days pass where Draco is, years pass on Earth, but Harry can't forget about Draco. You decide the type of relationship they have before Draco leaves.
Three Additions: loneliness, cigarettes, absence of oxygen
Squicks: Girly boys, fluff, Harry or Draco crying without a good reason, OOC, mpreg, usual hard kinks.
Maximum Rating: NC-17
Prompt submitted by: reira_21